Over a Decade Delivering Quality
In 2005, I started routinely selling my work with hundreds of satisfied clients on Etsy, my site, and, in the past, eBay. It's a small market for our work so we value our repeat customers.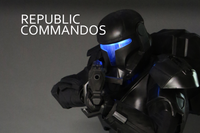 Featured Item: Seamed RC Kit
Finally, a commando kit with most of the hard labor completed so you can get to the fun stuff and avoid the dust and fumes. Starts at $1,375 for a limited time!
More Info
Testimonials
Oh my goodness. This has been a wonderful experience. The costume is of superb quality. It was shipped with great care and with perfect timing. The craftsmanship that went into this costume is breathtaking. Extremely authentic and high-quality. I can't say enough good about this shop! I would happily return here again for my future armor needs. :) 

zouljinn - Etsy
I'm a returning costumer and expected greatness, what I received blew me away further. Fits perfect, looks perfect. Excellent communication and great work with the modification I asked for. Just outstanding.

benwldn4 - Etsy
This shop is hands-down one of the best shops I have ever had the pleasure to work with! You can't beat the quality for the price; the costume is so impressive and attentive to detail, not to mention a perfect fit! They were also happy to accommodate for a deadline I had. The very best there is!

Clinton S. - Etsy
This mask is amazing! Such great quality and effort that was put in to this mask. I was worried that the mask wouldn't fit.I'm 6'3, so my head is a larger size,but it fits perfectly. This is the most accurate Darth Revan mask out there. It really is a true replica of the mask seen in Knights of the old Republic 1 and 2.

David D. - Etsy
Thank you both for everything!! It was a HUGE success, and I really can't express how much I appreciate the help! Great sellers, great quality! Absolutely the best! Thanks again!

Mike C. - Etsy
I just open the package that arrived from the post office. I can't believe the quality of the suit and mask. All of it is just perfect and amazing. Thank for your customer support and this piece of art.

 Contact buyer

Pedro M. - Etsy
Once again Wicked Armor proves to me why they're one of the best companies out for Star Wars products. These helmets are so amazing! Every bit of detail looks so good. I can't get over how awesome they look!

Matthew M. - Etsy
I am so in love with this mask. I have a slightly big head (I'm 6'4" 210lbs) and it fits great. It's going to look amazing as part of my cosplay and as part of my helmet collection. I'm so very pleased and they were able to deliver it on time! I hope to buy more from this seller in the future!

darthdraddog - Etsy
Amazing helmet! Absolutely thrilled with the helmet. Everything I hoped for in it. Makers were also extremely helpful with giving me updates and letting me know its status. If I buy anything like this again, it will be from Wicked Armor. Definitely a 6 out of 5 stars.

Tyler - Etsy